Remanufacturing
We Are Determined To Bring Renewed Life To Your Experienced Products.
Dependable Remanufactured Transmissions For Every Vehicle
At Dynamic Manufacturing, we serve as a major supplier of reliable and effective remanufactured pieces for vehicles. Our teams produce items like torque converters, transmissions, transfer case assemblies, and engines with careful and sustainable remanufacturing processes. You can extract maximum value from your experienced parts with Dynamic Manufacturing.
The process of remanufacturing produces components that offer the same quality and durability as the originals while saving the costs and resources associated with the production of new materials.
What Is Remanufacturing?
Remanufacturing is a comprehensive industrial process that fully disassembles experienced or obsolete assemblies and builds them to standard or better condition using auto parts that are genuine Original Equipment (OE) spares or through creatively salvaging. By creating a fully warranted product, we ensure that your remanufactured goods meet or exceed your quality and testing standards.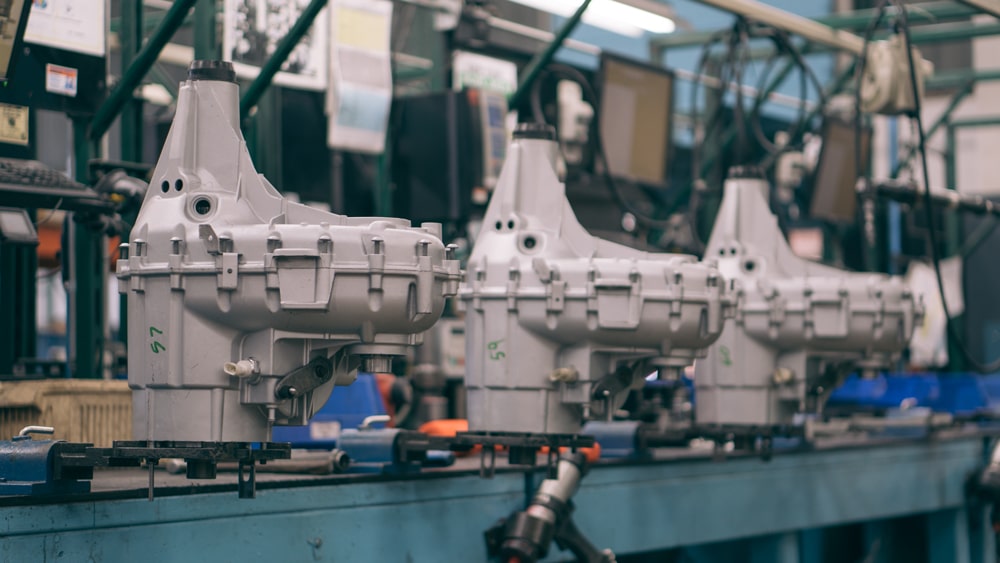 The Benefits of Dynamic Remanufacturing
Quality
Learn More
Products remanufactured by Dynamic are expertly processed to meet Original Equipment Service (OES) specifications. To ensure you receive the best quality service, we document and replace any non-conforming components with genuine OE parts. Quality is embedded in our culture. We pride ourselves on our process controls, data tracking, and rigorous quality standards to delight our Customers.
Sustainability
Learn More
Remanufacturing has been an enabler to sustainable business practices since our start in 1955. One of our passions is seeking creative solutions to reclaim value from materials that could be otherwise discarded. To remain in tight alignment with our Customers, we actively review the latest Customer design releases for engineering change and adapt our process.
LEARN MORE
Efficiency
Learn More
We do it all on our Suburban Chicago campus. Our process-driven approach helps our OE Customer efficiently and effectively manage the full life-cycle of their products. Rather than invest in new manufacturing, Dynamic can help you deliver remanufactured units that operate as if they were brand new—and it starts with our facility. With a 250,000 sq ft of warehousing for safely managing Customer core and supply chain activity, we also employ on-site Engineering and Machining Centers of Competency to design, construct and validate assembly fixtures and end-of-line test equipment. This ensures that the final product meets the OE performance specifications to the best standard.
Our Remanufacturing Standards
Remanufacturing doesn't have to mean sacrificing quality or integrity. When done correctly, rebuilt transmissions offer the same longevity and reliability as original products. At Dynamic Manufacturing, we implement remanufacturing standards and check all internal components for guaranteed quality throughout the entire process:
Hard part inspections
Soft part replacements
Original Equipment Service (EOS) specifications
Documenting and replacing non-compliant parts
Our Remanufacturing Process
Disassembly
Core is received, disassembled, and prepared for inspection to maintain a lean, standardized workflow. We're able to manage Customer core inventory.
Inspection
We thoroughly inspected the parts for re-use, salvage, or replacement according to our rigorous process controls and Customer specifications
Wash & Salvage
After inspection, all salvageable parts are removed and cleaned. Parts suitable for reuse are reclaimed or reworked and validated prior to use.
Assembly & Validation
Our highly-trained product line Associates assemble units use our NoMuda™ VisualFactory process controls. In-process validation and end-of-line tests are performed to ensure strict compliance to Customer specifications.
Logistics & Warehousing
All validated units are carefully packaged and shipped or warehoused as needed. We can act as a Customer distribution site.
High-Performance Transmissions and Custom Orders
Our team of experts at Dynamic Manufacturing can also provide high-quality and high-performance transmissions for vehicles such as hot rods, classics, and collectibles. We can also use our thorough remanufacturing practices for custom orders so that you can get a transmission that fits and reflects the needs of your car. Remanufacturing custom transmissions allows for the guaranteed fit of the valve bodies and the power and components to fit your exact make and model.
Popular Remanufactured Transmissions
Our team works on all kinds of standard transmissions and automatic transmissions. View some of our most popular reman transmissions offered:
| Part Number | Transmission | Make | Model | Trim Model | Engine Type | Start Year | End Year |
| --- | --- | --- | --- | --- | --- | --- | --- |
| 36- JBF | E40D, 4R100 | Ford | F-250 | XLT | 7.3L | 1999 | 2003 |
| 30-BAC | Honda 5 Speed | Honda | Odyssey | EX-L | 3.5L | 2005 | 2006 |
| 80-YBD | Honda Accord V6 | Honda | Odyssey | Cargo | 3.5L | 1999 | 2001 |
| 46-VAC | 5R55N, 5R55S, 5R55W | Ford | Explorer | Premier | 4.0L | 2004 | 2008 |
| 74-QAP | 4L6OE, 4L6SE, 4L70E | Chevy | k25/K2500 Avalanche | Base | 5.3L | 2003 | 2006 |
WHY CHOOSE DYNAMIC MANUFACTURING?
Our team at Dynamic Manufacturing has a long-standing history of expertise and dedication. Our services now expand to seven facilities around the country. Each facility works on sustainable and renewable energy sources and offers full-service operations that produce products with consistent and thorough quality assurance standards.
When you need remanufactured transmissions with guaranteed quality and durability, our team at Dynamic Manufacturing can provide them for you.
Contact our experts at Dynamic Manufacturing with any questions regarding the process and quality of remanufactured transmission by calling us at 708-343-8753.