RE-ENERGIZING YOUR ELECTRIC MOBILITY AND ENERGY STORAGE SYSTEMS
Electric vehicles (EV) are nearing an inflection point as changing consumer attitudes, improved battery economics, broader access to charging infrastructure, and stricter regulatory policies present growth opportunities. Dynamic is well-positioned to support the industry shift to Electric-Mobility. Repurposing batteries for stationary storage can play an important role in extracting maximum value from your batteries before end of life.
ELECTRIFICATION: REMANUFACTURING, REPURPOSING, & RECYCLING
As Electric Vehicle (EV) batteries age, they no longer meet Original Equipment (OE) power and energy specifications. Fortunately, Dynamic has a dedicated EV battery facility with capabilities for incoming inspection, discharge, disassembly, cleaning, cycling, balancing, final assembly, maintenance, and storage.
If a battery can no longer be remanufactured to Original Equipment Service (OES) specification, we have repurposing opportunities. Secondary applications—such as energy storage systems and stationery backup power systems—maximize each battery's total lifetime value.
Once a battery cannot meet second application standards, we responsibly dispose of it for you, using third-party vendors engaged in environmentally conscious recycling.
BATTERY PERFORMANCE TESTING
We use our state-of-the-art test equipment and software to conduct performance testing to help you determine your battery's health.
Our fully integrated test systems log and capture voltage, current, capacity, and temperature. This includes verification, stress, nominal, and high-load tests at the module and complete pack levels. Charge and discharge curves are measured against the master data we develop with you.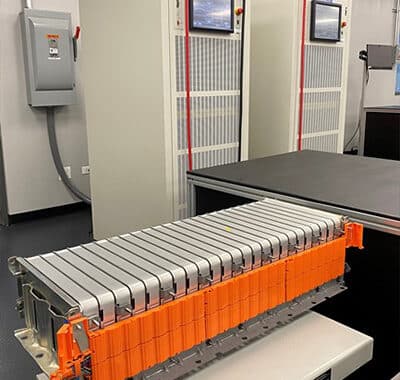 2x NHR 9300 units for Pack Level Testing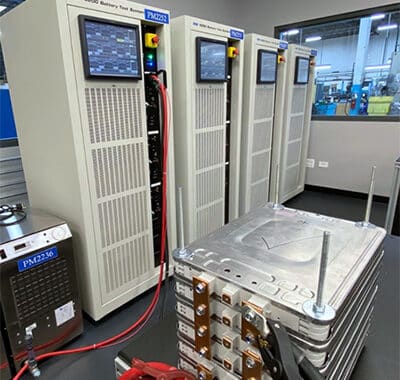 NHR 9200 units for Module Level Testing
OUR ELECTRIFICATION OFFERINGS
INSPECTION
Learn More
Each Electric Vehicle (EV) component or system is disassembled as defined by the Original Equipment Manufacturer. Our rigorous inspection process ensures proper characterization and determines the next steps.
TESTING
Learn More
Dynamic provides one-on-one support to define Electric Vehicle (EV) battery performance testing for capacity, stress, and cycle life. We develop custom test scripts and provide additional guidance and expertise for EV systems and components. Dynamic prioritizes quality and transparency throughout our testing and reporting service.
REMANUFACTURING
Learn More
All products are verified through Dynamic's disciplined remanufacturing process. Traceability is maintained for every component and/or system.  After validation is completed, a detailed analysis report is generated and provided to our Customer.
REPURPOSING
Learn More
We can help provide alternative options for batteries that no longer meet OES automotive specifications. Applications such as energy storage systems and stationery backup power systems can help maximize the total lifetime value of each battery.
STORAGE & MAINTENANCE
Learn More
We store and maintain each battery pack within our secure on-site warehouse. Scheduled activities are conducted to maintain the required state of charge.
RECYCLING
Learn More
We provide responsible recycling services for batteries that are damaged, unrepairable, or have reached end-of-life status.
WHY DYNAMIC MANUFACTURING?
Dynamic Manufacturing is a leading automotive drivetrain component and system remanufacturer located in suburban Chicago. We remain at the forefront of the manufacturing industry through electrification advancements that give you expanded services in electrified drivetrain systems, battery life cycle, and other EV technologies.